Manchester City is one of the teams in England that have been active in the transfer market. They have managed to sign Halaand, have Julian Alvarez back from a loan from Rivers Plate, and are set to complete a deal for Calvin Phillips. These deals and potential transfers have the capacity to change the dynamic of the Manchester City first team. Here is the best lineup of Manchester City that can be used to prosecute the new Premier League season under the 4-3-3 formation. Without further ado, let us delve in.
Best Forwards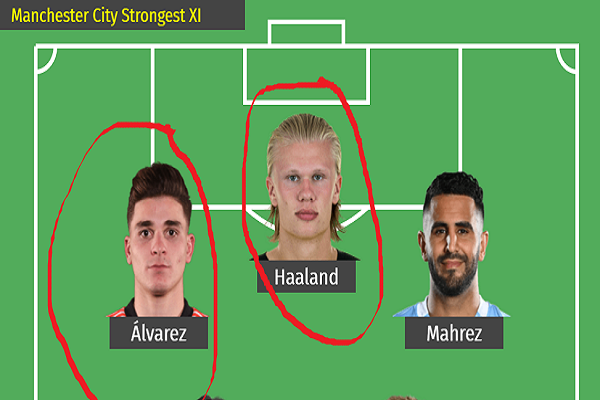 The attacking line of Manchester City will definitely change with the arrival of new forwards. Halaand might turn out to be a regular, as Gabriel Jesus is getting set for a move to Arsenal. Julian Alvarez was out on loan with Rivers Plate and is back to the squad. The quality of the Argentine forward makes him a good option for Guardiola who will be looking forward to breaking up the defenses of Premier League teams in the coming season.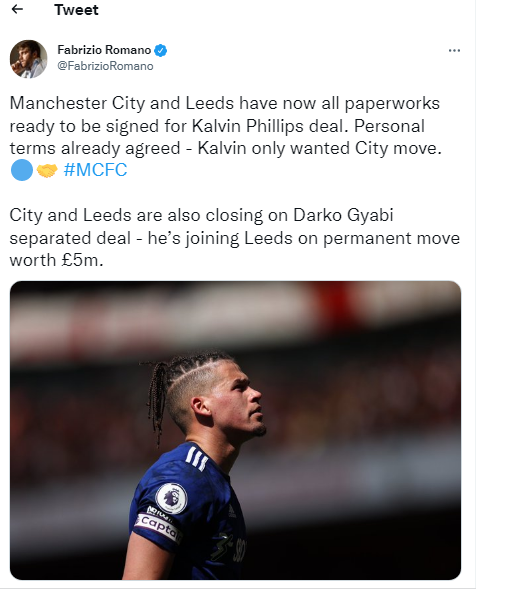 Image Credit: Twitter
Coming to the Manchester City midfield ahead of next season, Calvin Phillips according to "TalkSports", is getting set to join the Citizens. The addition of a quality defensive midfielder to the team would have an impact on starting shirts. Rodri might be dropped for the more versatile Calvin Phillips. This trio in the midfield combo will be; Bernardo Silva, Calvin Phillips, and Kevin De Bruyne. Without a shadow of a doubt, Calvin Phillips is one of the best defensive midfield prospects in modern football. He is a player that can make good decisions in games. Kevin De Bruyne has good creativity stats, making him a regular shirt for Manchester City this coming season. According to a football statistical website; "One-versus-one.com", Kevin De Bruyne in last season's Premier League campaign, created a total of 51 chances. If he can bring these numbers up this coming season, Manchester City might have a great Premier League campaign.
Best Defensive Setup 
Coming to the Manchester City defense, Manchester City will lineup with Zinchenko, Ruben Dias, Jone Stones, and Cancelo. In Manchester City's transfer market activity, they have not made any world-class additions to their defensive line.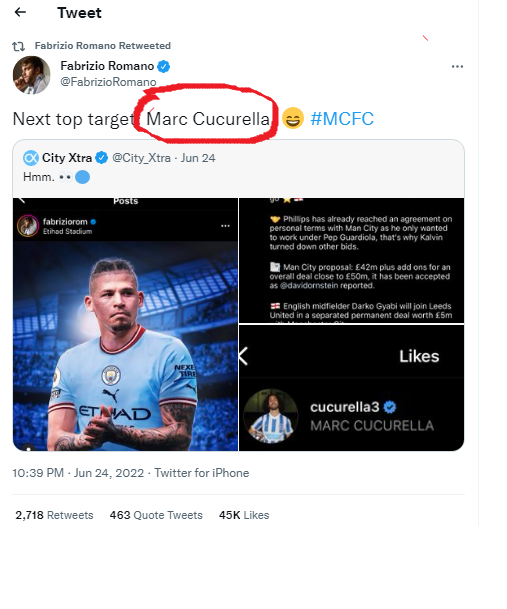 Image Credit: Twitter
However, according to Fabrizio Romano's Twitter Feed, Manchester City could land, Brighton's left-back- Cucurella.