Fans React As Jurgen Klopp's Liverpool Drop Points In The Premier League (Photos)
--P Advertisement--

Liverpool is currently in a bad position in the Premier League after their yesterday's encounter with Tottenham. They conceded a goal and that made them fight to equal and take a point from their opponent.
Liverpool is currently in competition with Manchester City for the chance to win the Premier League trophy for this season but yesterday's match made them be an equal point with Manchester City.
Today's fixtures will feature Manchester City and Newcastle in the Premier League. Manchester City has the chance to be way ahead of Liverpool in the Premier League.
Conte's aim for Tottenham this season is to put them in a spot to compete in a European competition either the Champions League or the Europa League. Liverpool fans were not happy after yesterday's performance from the players. Check the image below for the Espn post.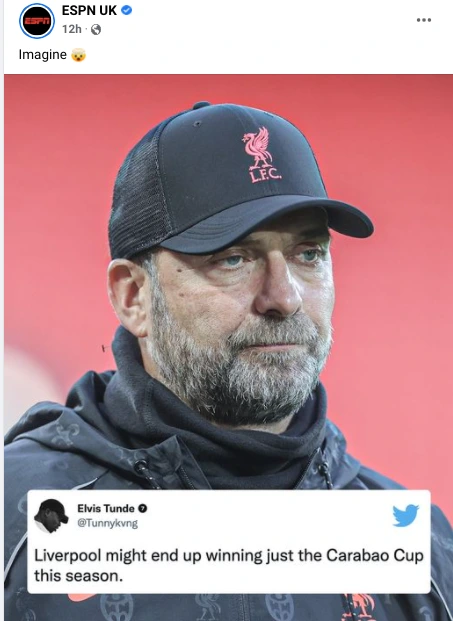 The fans were not happy about the result but they believe that the team will pick up their best player in the rest of the fixtures for this season. Check the images below for fans' reactions.
Liverpool will have to face Chelsea in the FA Cup final next week Saturday. Chelsea will have a rematch for the Carabao Cup final they lost to Liverpool this season.