How Many Goals Will Liverpool Beat Man United, And Does Manchester United Stand Any Chance?
Nothing in football is ever guaranteed. But it would be a striking result if Manchester United got anything out of the game. This Liverpool team is sublime at present. But in any game, there is always a chance. Just ask North Macedonia. And Manchester United has plenty of potential match-winners in their squad, and nobody loves marking Ronaldo.
--P Advertisement--

As a neutral, it does not look good for Manchester United, they have not won their last 7 games against Liverpool in the League. They have also not scored against them in the last 4 matches. They are also woefully inconsistent and lack leadership and drive. it is also playing at Anfield with their home support it bodes well for Liverpool.
Liverpool has played a lot more matches. Their form is excellent but the danger is complacency. Manchester United also have Ronaldo who will be fired up to win in his last season for them plus he scored a hat trick last week also, they do have something to play for with Spurs and Arsenal losing, they have a chance of 4th place. It is not like Liverpool is playing a team who have nothing to play for.
I also think Manchester United does not have a chance. The players look like they do not care about performing on the pitch and do not want to be there at the club. Finishing 4th or 10th does not make a difference for them, they get their matchday salaries for playing the match and that is all. The players also do not care for the manager as well as Rangnick being the interim till the end of the season so they are not playing for him. Manchester United just won at home to Norwich last week, and that just shows how the majority of the players are performing at the club.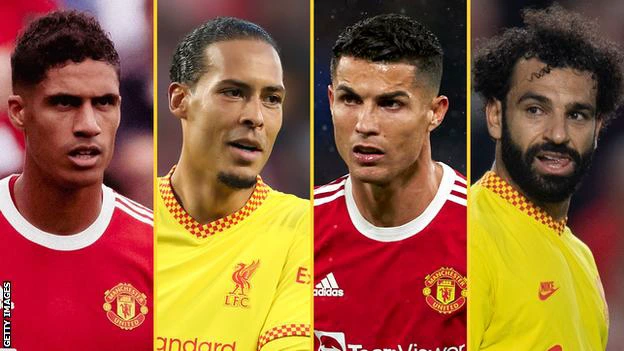 I still do not expect a thrashing though as Manchester United will want to preserve some respect from the performance. I say 2–0 with Jota and Mane scoring which will dent Manchester United's hopes of finishing in the top 4 even more and boost Arsenal and Tottenham even more. This will be a comfortable 2–0 though as the result will be decided by halftime and Klopp will rest some of his stars for Sunday's Merseyside derby against Everton which will be tougher than this game. I feel Klopp will not like to embarrass Manchester United hence only the 2–0. And I think two Manchester United players will turn up for the game, Ronaldo and De Gea, and the rest will just go through the motions. Expect De Gea to preserve some respect by making saves in abundance.