Premier League's Top 8 Clubs With The Most Signings So Far
Some of the top eight premier league clubs have not been active in the summer transfer window. Arsenal who signed Gabriel Jesus from Manchester city, have signed four players this summer.
They signed Fabian Vieira, Matt Turner Marquinhos and Gabriel Jesus. Mikel Arteta is not yet done as he wants his boss to seal Lisandro Martinez deal before the start of the Pre-Season friendlies.
However, the Meseryside reds has completed the signings of three players. They have signed Fabio Carvalho, Darwin Nunez and Calvin Ramsay.
The Meseryside reds is among the premier league teams who have spent the most transfer fee in the Summer transfer window. Moreso, Tottenham Hotspur has already sealed the deals of Yves Bissouma, Ivan Perisic and Fraser Forster. These three players will be part of their first team squad next season.
Manchester city and West Ham have signed one player each. The Sky blue team have signed Erling Haaland from Borussia Dortmund. They have already solder Braaf and Gabriel Jesus.
There are rumors that they could still sell Nathan Ake, Zinchenko and Raheem Sterling. Manchester city are now keen to signing Kalvin Phillips and sources suggest that deal could sealed in the next few days.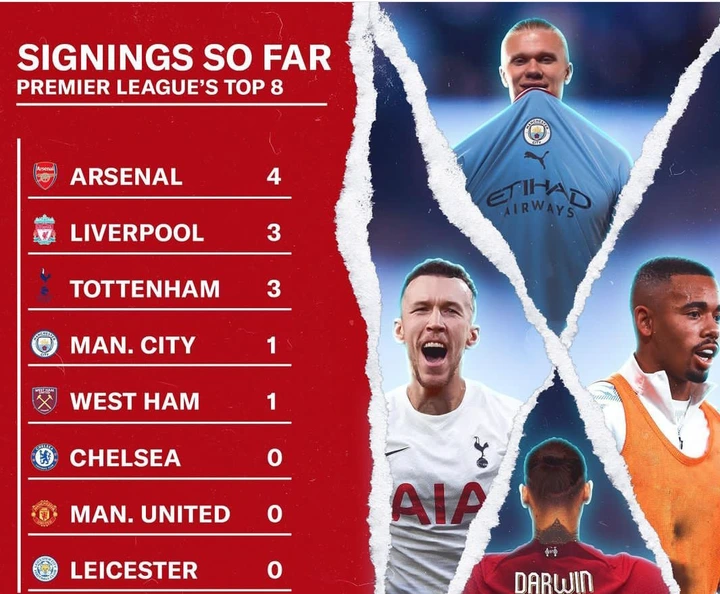 Among the top eight premier league clubs, there are some of the clubs who are yet to sign a player this summer. Chelsea, Manchester united and Leicester city are the clubs in question.
There are sources that revealed that Manchester United have agreed a fee for Frenkie de Jong and will possibly make him their first summer signing.
Chelsea are still in talks with Manchester city over the potential signing of Raheem sterling, while sources claim that Chelsea re Inter in signing Raphinha, Jules Kounde and Mathjis De Ligt.