One of the most important wings in a football game is the midfielder. The midfieider world can be overemphasized. By joining the attached in attacking opponent, the midfieider will protect the defense while also adding pressure to the attacker.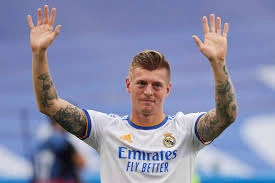 Every successful team has a good midfieider because no team in the world can progress without a good midfieider. Defensive midfieiders, Central midfieiders, and Attacking midfieiders are the three types of midfieiders. The three midfielders are crucial because they each play a unique role in each game.
Alongside him is his compatriot Leon Goretzka, an all-action midfielder with a similarly well-rounded game. Goretzka also serves as an aerial threat during set-pieces. He is also a strong presence in midfield and enjoys getting involved in the game on both sides of the ball.
Thomas Muller, Europe's assist king, is operating ahead of these two. When it comes to football intelligence, the self-proclaimed 'Raumdeuter,' or space interpreter, is simply a cut above the rest. His movement and link-up play in and around the final third are legendary.
They form one of Europe's best midfield combinations. In midfield, they have Marcel Sabitzer, Corentin Tolisso, Marc Roca, Jamal Musiala, Paul Wanner, and Malik Tillman.
3. Liverpool
Another Premier League team with a well-balanced midfield is Liverpool. Jurgen Klopp's team is not entirely reliant on their midfielders to create the majority of their chances, as that duty is shared with the full-backs.
As a result, Liverpool's midfield is all about efficiency, and they excel at it. Fabinho plays at the base of midfield and does an excellent job of both defending and starting attacks. He is a skilled passer who also likes to arrive late in the final third and chip in with goals.
Thiago Alcantara is one of the world's best central midfielders. His passing range and vision are exceptional, and after a slow start at Liverpool, Thiago delivered big time in the 2021-22 season.
Naby Keita is more than just a box-to-box midfielder; he is one of the most dynamic midfielders in the Premier League right now. Jordan Henderson is an all-action midfielder who is a tenacious presence in the center of the pitch and keeps the Merseysiders ticking in midfield.
Liverpool also has a strong midfield with Alex Oxlade Chamberlain, Curtis Jones, and Ben Woodburn.
2. Real Madrid
This Real Madrid midfield has already achieved legendary status, and there isn't much more that can be said about them that we haven't already heard a thousand times. Together, Casemiro, Toni Kroos, and Luka Modric have won four Champions League titles.
Casemiro remains a boisterous presence in front of the Real Madrid defense. His tackling and interception abilities are exceptional, and he has recently become quite tidy in possession. Luka Modric is regarded as one of the most inventive central midfielders of the twenty-first century.
His technique is flawless, and the Croatia international can whip out some incredible passes that will confuse the opposition. Toni Kroos exudes class and commands the midfield with an intimidating amount of confidence.
The Germany international is also one of the most accurate passers in the world, and he has been at the heart of Real Madrid's recent success. Real Madrid's midfield is safe and secure for the foreseeable future thanks to Federico Valverde, Eduardo Camavinga, and new signing Aurelien Tchouamei.
1. Manchester City
Pep Guardiola is a big fan of midfield trios. Sergio Busquets, Xavi, and Andres Iniesta relentlessly schooled their contemporaries with their elite footballing abilities at Barcelona under him.
Guardiola has come close to replicating the same at Manchester City. He has one of the best defensive midfielders in the world in Rodri. He excels at disrupting play and turning over possession. The Spaniard's elite passing ability allows him to effectively initiate counter-attacks.
Bernardo Silva never stops moving and is extremely gifted technically. He can maneuver through tight spaces and is rarely pushed off the ball. Silva is also a very creative player who, with his movement, link-up play, and finishing, can wreak havoc in the final third.
Kevin De Bruyne is another option. Manchester City's best player during Pep Guardiola's tenure has been the Belgian international. He is capable of doing everything. De Bruyne has the ability to bomb his way past obstacles, play incisive passes that upend entire defenses at once, and score some absolute belters.
Guardiola has players like Ilkay Gundogan, Phil Foden, and Jack Grealish who can all play in midfield to back them up. They've also added Kalvin Phillips to their midfield, making them an even more intimidating opponent.
These are the four clubs that currently have the best midfieid.