Manchester United are very close to securing the services of Barcelona midfielder Frenkie de Jong, according to Sport.
--P Advertisement--

The Red Devils have been in constant discussions for the 25-year-old in recent weeks, and they are now on the verge of signing him.
A fee of €80 million (68m) has been finalised, and it is reported that the proposed transfer is now in the 'final stretch' and 'very very advanced'.
United have already opened talks with De Jong's agents over personal terms. A five-year contract is expected to be agreed.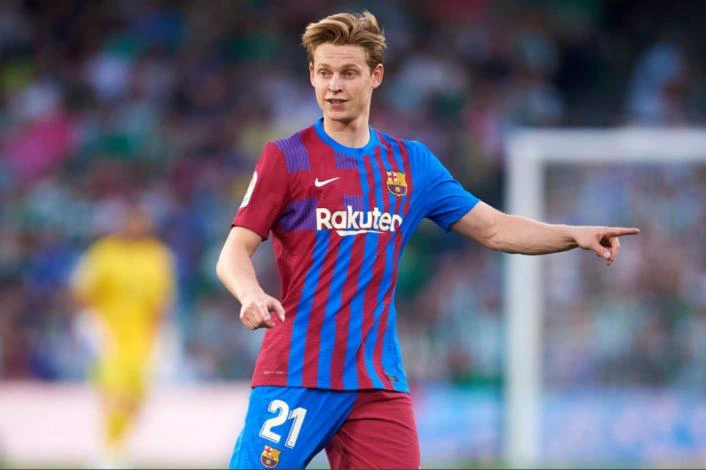 De Jong has been tipped to move to Old Trafford by June 30 with Barcelona likely to want to balance their books for the financial year.
Our view:
De Jong has been manager Erik ten Hag's priority target since his appointment. After weeks of negotiations, it seems they have managed to persuade the Blaugrana to sanction his exit.
It has cost a premium fee to prise him away, but the midfielder should offer value for investment. The Dutchman is excellent with the ball at his feet and has completed over 91 per cent of his passes throughout his career.
He should provide a good upgrade on the likes of Scott McTominay and Fred. De Jong played as the number six at Ajax, and Ten Hag could deploy him in a similar position at Old Trafford.
The Dutchman is not a tough tackler by any means, but he is capable of winning regular duels and has the ability to dispossess opponents with his clever movement and anticipation.
De Jong looks set to become United's first major signing of the summer and hopefully, there are many more big-name arrivals at the club. Christian Eriksen has been heavily linked lately.
United Interested In €18m Rated Bundesliga Midfielder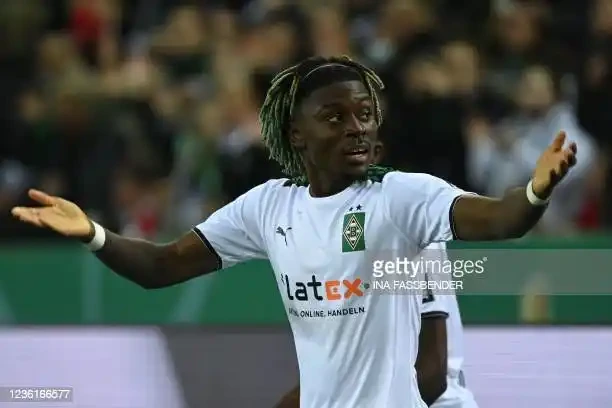 Manchester United have Kouadio Kone in their sights as they continue pursuing the completion of their first signing this summer. While the likes of Frenkie De Jong and Christian Eriksen, reportedly, remain the primary midfield targets, the club's seeming lack of priority in a defensive midfielder has fans concerned ahead of the new season.
Although the Red Devils previously retained an interest in Chelsea's N'Golo Kante in a bid to secure a defensive midfielder, Erik Ten Hag's reported preference for strengthening other areas could see the club shy away from addressing the position this summer.
However, with players such as PSV Eindhoven's Ibrahim Sangare and Kouadio Kone of Borussia Monchengladbach expected to be on the market, United could be tempted to move for either target, with the latter likely to significantly improve the team's prospects next season.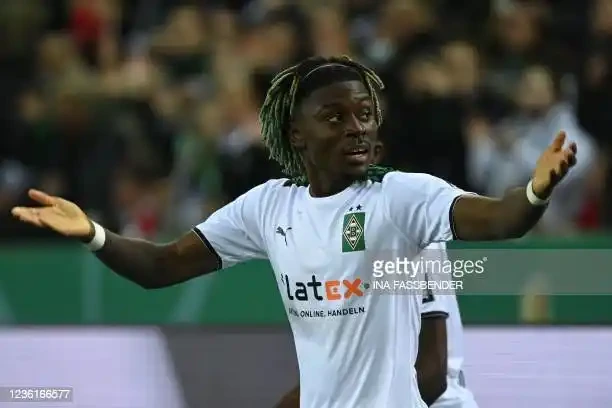 Having been amongst Borussia Monchengladbach's most notable performers, the 21-year-old enjoyed a fruitful season with the Bundesliga club in the recently concluded campaign. Renowned for his athleticism, technical skills, and versatility in his position, the young midfielder continues to make waves across Europe, with a player of his profile likely to attract the interest of several clubs this summer.
A Composed Figure:
With exceptional attributes ranging across the defence and attack, the youngster is more than capable of strengthening a squad's midfield dynamic. Possessing a willingness to receive the ball in the initial stages of the build-up play, Kone is noted for his ability to retain the ball whilst also being inventive in exploring spaces with his movement and positioning subject to his role on the pitch.
Moreover, with a tendency to aggressively utilise his physicality and body shape in a bid to shrug-off opponents, the Frenchman established himself as a tenacious yet intelligent personality in the middle of the park. While unknown to rely on scanning the pitch before receiving a pass, Kone's ability to drop in between the lines alongside maneuvering blind-sides of the opponents has seen him emerge as a reliable figure in midfield.
Additionally, with the ability to comfortably rotate in possession given his impressive understanding of positionality, Kone also offers a threat in attack – reflected in the figures below (1.0 and 1.1) – given his exploits at being a vertically progressive runner or dribbler into the attacking half of the pitch.
Progressive Midfielder:
Equally renowned for his attacking attributes, the 21-year-old Frenchman boasts an exceptional passing accuracy (88% – 21/22) owing to his weak foot setting and ability to control the spread of his body weight, alongside his low sense of gravity when transitioning into the attacking phase of play.
This allows the midfielder to efficiently combine with his teammates, creating possibilities of playing one-two's in progressive transitions, partly owing to his supplementary ability in holding onto the ball whilst carrying it up the pitch in a bid to create space in the attacking half.
While reluctant in involving himself in patterns across the attacking third (20 touches in the opposition's penalty area – 21/22), Kone's timing and regulation vis-à-vis movement in possession and his delicate touch allow him to draw fouls or ride the challenge during his progressive runs.
Moreover, boasting far superior numbers when compared to the likes of Scott McTominay and Fred across progressive carries, dribbles, and touches in the midfield per 90 minutes, amongst other defensive and offensive metrics last season, Kouadio Kone is destined to improve the already fallible United midfield.
Although the 21-year-old has had his struggles in consistently delivering progressive passes alongside being reluctant in involving himself in the final third, Kone's off-the-ball movement has repeatedly helped teammates to exploit central spaces of the pitch; allowing him to combine in central midfield, inevitably establishing himself as a threat on the counter owing to his long-range passing and tendency to play through-balls along the ground during the phase of play.
Moreover, with his passes possessing impeccable speed and weight, Kone's impact ensures his team maintains a healthy percentage of ball circulation in the middle of the pitch.
Defensive Aggression:
Whilst his best attributes lie on the attacking side of the pitch, Kone is considered to be an aggressive figure in defence capable of executing crunching tackles and interceptions alongside being unafraid to imply his physicality. Apparent by his nature to receive the ball from the back-four, the young midfielder thrives in progressing the ball up the pitch. However, he remains inconsistent in covering spaces and anticipating the opposition's movement during their attacking transitions.
Although having tasted success in pressurizing opposition players in possession across the midfield [92nd Percentile (Per 90)], the 21-year-old midfielder is yet to cultivate a discipline in the application of his role within a counter-pressing system.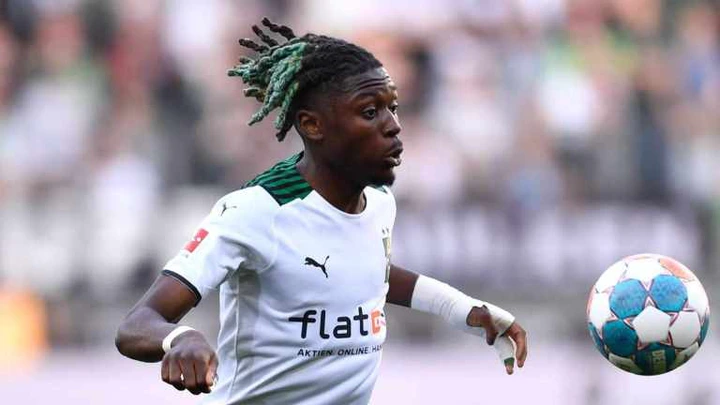 Sometimes slow to react and other times unaware of the opposition's movement, the 21-year-old is yet to emerge as a reliable figure in a defensive role. Moreover, despite boasting a notable work ethic, Kone, at times, lacks intensity whilst back-tracking, alongside having shown signs of a lack of communication with teammates whilst collectively executing their defensive duties.
However, registering superior numbers vis-à-vis tackling across the midfield, successful pressures, and interceptions when compared to Fred and McTominay, Kouadio Kone is likely to improve the defensive application in the position for United. Nevertheless, as evident from the figure (1.2) below, the Frenchman is yet to develop the discipline required to function as an anchor, but he retains the potential to significantly improve his attributes under excellent coaching.
Verdict:
With United needing a defensive-minded midfielder to complement Ten Hag's preferred box-to-box midfielder next season, Kouadio Kone emerges as a raw talent yet to harness his potential at the highest level of the game. Having previously shown an affinity towards targeting and developing young talent from across Europe, Ten Hag could certainly favour a move for the player provided he earmarks the Frenchman as a priority this summer.
However, with United likely to address other areas of the pitch before considering moving for a third midfielder, a move to Old Trafford is unlikely to materialise for the Frenchman this transfer window. Nevertheless, having established himself amongst the most promising young midfielders in the Bundesliga over the last year, the 21-year-old is certain to continue developing his game before seeking a move elsewhere in the near future.