REPORTS: Sadio Mane has decided to leave Liverpool this Summer After the whole Struggle in Liverpool
Senegalese winger Sadio Mane has decided to leave Liverpool in the summer after many special years with the Reds. The 30-year-old winger feels he's ready to take a new challenge after spending six successful years at Anfield.
--P Advertisement--

Sadio Mane was respectful with the club, he didn't want to announce his decision to avoid negotiations before the final. Few days ago Mane was asked about his future at Liverpool if he's going to extend his contract with the Reds but he replied: "After the Champions League, I will answer whether I stay or not".
FC Bayern Munich are the favorites to sign the Senegalese forward as they want Mane as priority Incase Lewandoski leaves the club. The race is still open for everyone and nothing has been completed yet.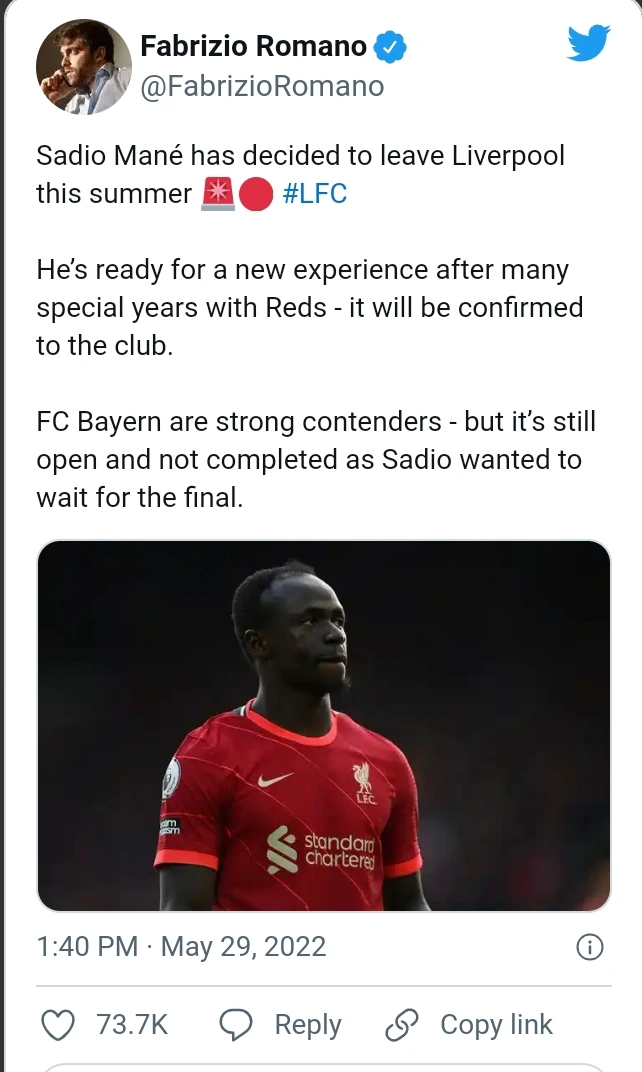 Sadio Mane seemed to announce his departure from Liverpool after the final, "I would like to thank the fans for everything and coach too. I wish this team all the best in the world" Mane after the Uefa Champions League final.
During his six years at Anfield, Sadio Mane scored 120 goals and provided 38 assists in 269 appearances for the reds. He also won the Premier League, Champions League, Super Cup, FIFA Club World Cup, Carabao Cup and FA Cup. His decision to leave Liverpool was confirmed by top transfer journalist Fabrizio Romano