Salah Shows Last Respect To Sadio Mane As He Shared Photos Of Their Iconic Partnership In Liverpool.
Egypt international Mohamed Salah, did the honors to take up to his Twitter handle and upload iconic photos of departed Liverpool player Sadio Mane, as the duo shared a wonderful place in the history of the club.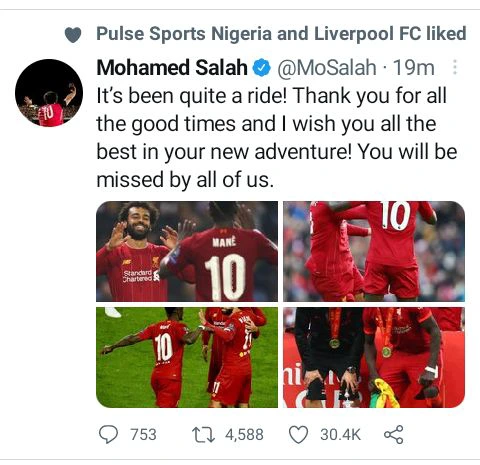 --P Advertisement--

The departure of Sadio Mane to German club Bayern Munich did not escape the memories of Mohamed Salah as he did the needful to bring back memories of what they did together for Liverpool on the pitch. Forming an iconic partnership, Mane and Salah gave their all for the club, when they one the club the UEFA Champions League and the Premier League title.
An outstanding and iconic partnership from the African footballers, Sadio Mane will now be enjoying next season with Bayern Munich,
while Mohamed Salah will have to focus on a new chapter with Liverpool, however, he had to show the best and last respect to his best buddy in the club, through his latest Twitter post.