The Most Followed Footballers On Instagram In The World
The game of football is one of the most prestigious sports in the world, with millions of fans and supporters all over the globe. However, lots of individuals today have their favorite football players they love watching them play on the pitch, and most of these individuals or rather fans went to the extent of following these football players on their social media pages such as Twitter, Instagram, Facebook, YouTube, and the rest.
--P Advertisement--

But looking at the Instagram followers of some football players, you'll come to realize that some of these football players have millions of fans who followed them on Instagram, and most of these football players are legends widely regarded by many as the greatest football players of all-time in the history of the football game.
Therefore, in line with this article, we are going to be looking at the football players with the most followers on Instagram. So friends, kindly read along till the end as we highlight you like the most followed players on IG.
Note: the number of followers on Instagram is constantly changing as fans keep following them daily on their IG pages.
20. Robert Lewandowski (Polish Football Player)
Total Number Of Followers On IG: 23.2 M
19. M. Ozil (German Football Player)
Total Number Of Followers On IG: 24 M
18. Eden Hazard (Belgian Football Player)
Total Number Of Followers On IG: 26.8 M
17. Z. Zidane (Former French Football Player)
Total Number Of Followers On IG: 30.2 M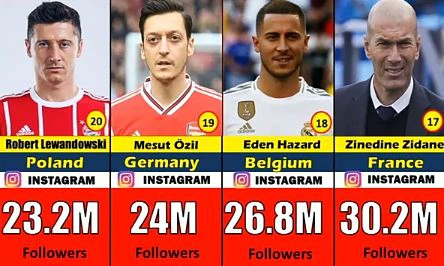 16. T. Kroos (German Football Player)
Total Number Of Followers On IG: 30.5 M
15. A. Griezmann (French Football Player)
Total Number Of Followers On IG: 35.2 M
14. Iniesta (Spanish Football Player)
Total Number Of Followers On IG: 38.5 M
13. Suarez (Uruguayan Football Player)
Total Number Of Followers On IG: 41.7 M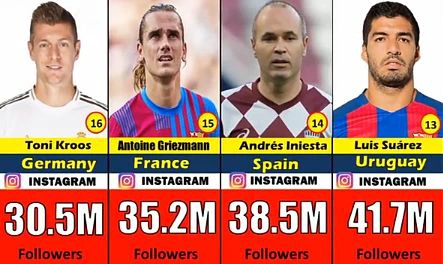 12. Benzema (French Football Player)
Total Number Of Followers On IG: 44.1 M
11. Dybala (Argentine Football Player)
Total Number Of Followers On IG: 45 M
10. Bale (Welsh Football Player)
Total Number Of Followers On IG: 45.6 M
9. Salah (Egyptian Football Player)
Total Number Of Followers On IG: 46.7 M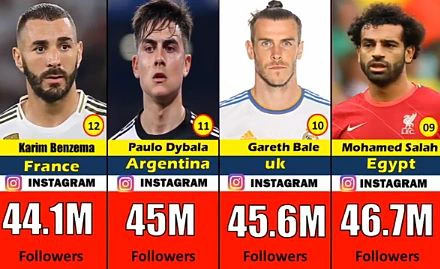 8. S. Ramos (Spanish Football Player)
Total Number Of Followers On IG: 49 M
7. Ibrahimovic (Swedish Football Player)
Total Number Of Followers On IG: 52 M
6. Ronaldinho (Brazilian Football Player)
Total Number Of Followers On IG: 62.5 M
5. Mbappe (French Football Player)
Total Number Of Followers On IG: 63.5 M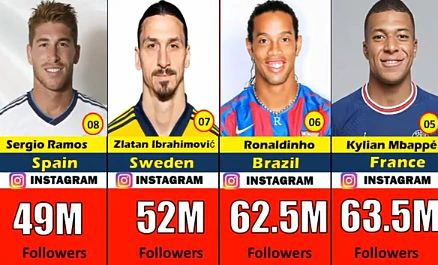 4. David Beckham (Polish Football Player)
Total Number Of Followers On IG: 70.2 M
3. Neymar Junior (Polish Football Player)
Total Number Of Followers On IG: 167 M
2. Messi (Polish Football Player)
Total Number Of Followers On IG: 294 M
1. C. Ronaldo (Polish Football Player)
Total Number Of Followers On IG: 382 M